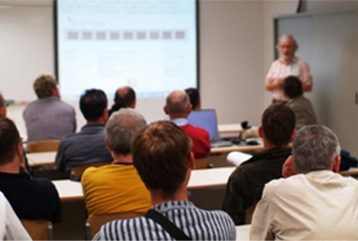 DHF (Door & Hardware Federation) has announced that it has introduced more robust procedures for companies wishing to join its membership following a 'bumper year'.
The Tamworth-based trade association is renowned industry-wide for its tireless and on-going efforts in raising standards and levels of safety across the sector, and this latest pronouncement is further testament to these continuing endeavours.
The new procedures, which started on 1st October following a tremendous boost in membership since 2017, will mean that all companies wishing to apply for membership will, initially, be referred to as affiliate members until, in the case of applicants involved in automated gates, industrial doors and garage doors, at least one 'responsible' person (who can implement changes) in the company has completed the relevant DHF two-day Diploma course(s). Whilst affiliate members, companies will be unable to use the DHF logo or appear on the DHF website.
Furthermore, all companies applying for membership will also undertake a new Company Compliance Assessment (CCA), a checklist of legal and compliancy requirements specific to the product, and usually involves a visit to their premises by a member of DHF's experienced training and compliance team and/or a visit to a recent installation, to ensure the company is supplying and installing safe and legally compliant products.
Once these requirements have been satisfied, the applicant company will become a full member and be able to use the DHF logo, be displayed on the DHF website and utilise the many benefits available to members.
"As an organisation, DHF is renowned for its rigorous processes in allowing new members into the federation, and following a recent surge in membership numbers, we are determined to maintain that positive reputation," explains Commercial Manager, Patricia Sowsbery-Stevens. "We are understandably delighted by the swell in membership but determined that 'quality' should not be compromised in any way by 'quantity'. Being a member of DHF means something. Safety, compliance and legal responsibility lie at the very heart of what we do, so it is essential that we continue to retain the very high standards for which we are recognised across the industry. It is vital that both new – and existing – members adhere to the principles and values of the association in meeting these requirements.
"So far, the new processes have received the full backing and encouragement of our current members and those wishing to join DHF. Going forward, we will also be increasing the number of company compliance assessments carried out on existing members. DHF's strapline is Raising Standards, Safety Assured, and these new measures demonstrate our continuing commitment to this benchmark."
For further information about DHF, please visit:
https://www.dhfonline.org.uk
Scroll down to read more articles like this which have been published recently on this blog
Low Cost and Free Publicity
- Your company can easily benefit from some publicity like this in return for a contribution towards our layout costs (£55 to £75 plus VAT), payable in advance via PayPal or credit card or receive the service absolutely
free of charge
if you advertise (see below).
We post articles up to twice a day and never delete them - we only archive them each year so that they continue to remain visible to search engines.
To have your story published
- just send us your news item, logo and image(s) and we will review the material, make any necessary changes to the wording / wordcount and then advise you when it will be published.
If you are a regular advertiser placing series bookings or subscribing to our VIP Packages in our printed and online publications, you will qualify for a specific number of
free postings
on this blog while you continue to advertise with us.
Also, if you purchase one of our Online and Print Combo packages, Featured Articles or Advertorial packages, posting on this blog is
included in the price
.
For details and rates for
all of our advertising options
in print and online, download our media pack
contact us
or visit our
website
.
Door Industry Journal is a trading style of Avalon Innovations LLP Company Registration No. 06807833